BUY

@HOME

Kraft Nissan
Buying a new car is always exciting since you get to enjoy the latest features and technology when you cruise around Tallahassee. But if you prefer to shop at your own pace or even alone, the thought of visiting your local dealership may be overwhelming. At Kraft Nissan, we want to eliminate that altogether by offering our [email protected] program! Whether you want to shop for a new Nissan vehicle comfortably at home or you simply don't have time to come by our lot, you can start and finish the shopping process online. See accurate pricing, explore finance and lease options, and even sign agreements today!
How to BUY
@HOME
After finding the Nissan vehicle that is right for your Tallahassee lifestyle from our inventory, simply click on the [email protected] button to begin the process! You can expect the following steps as part of the process:
Create an Account
Receive personalized offers whether you want to purchase or lease a new Nissan car. You can also save your progress if you need some time to consider the offers.
Guaranteed Trade-In
While you can easily get an estimate of the car you want to trade in, you can get the current value instead through our online buying process. This way, you won't have to go from dealership to dealership to see how much you can get for your trade-in car.
Payment Options
Set your down payment, adjust finance or lease terms, and apply local offers for your actual monthly payment.
Purchase
Select your preferred lender and execute all applicable contracts. Lastly, schedule your delivery and you'll soon be driving in your brand new Nissan vehicle around Tallahassee!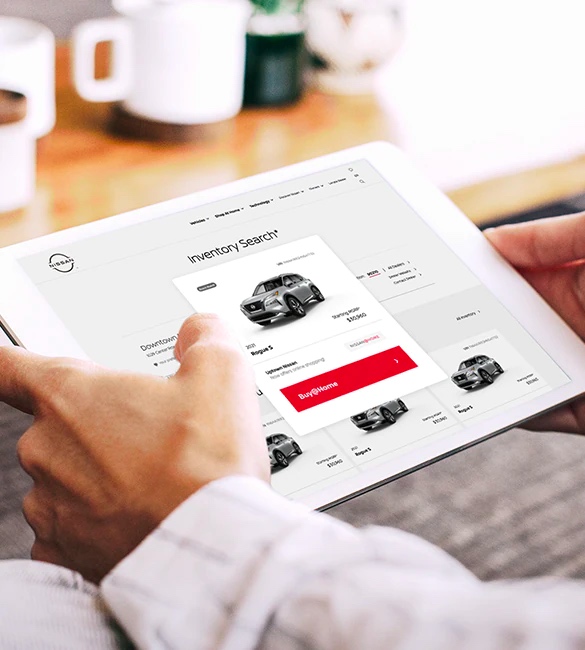 Look for BUY

@HOME

in inventory
Calculate Your Payment today
Additional benefits of [email protected]*:
Fully guaranteed trade-in offers
Receive personalized offers
Apply local incentives
Secure financing
Save your progress
Online e-contracting and signing
Schedule delivery