Community Involvement
Joanna Francis Living Well Foundation and the Flamingo Challenge through TMH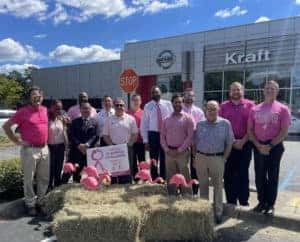 At Kraft Nissan, we strive to be in touch with our local community and love to support organizations with an important cause. Recently, we partnered with the Joanna Francis Living Well Foundation and the Flamingo Challenge through TMH to help with their goal to provide financial and emotional assistance to families with breast cancer diagnoses.
They not only want their recipients to get better, but they also encourage them to live better through support groups, financial assistance, and more. We love their foundation and practices, and through October, Kraft Nissan contributed over $4,000 to these great organizations, thanks to our generous patrons and customers.
How Did We Do This?
Throughout October, we held various social events at our dealership to help raise the money needed to support the foundation.
We'd love to thank our fantastic team at Kraft Nissan for donating time and food for these events, such as our Continental Breakfasts at the dealership and our baked goods sale.
A special thanks to David Bullock with Gator Daves BBQ for his incredible cooking skills while assisting Chris Kraft, Sr. at our annual cookout.
Finally, we wrapped it all up with a silent auction which we couldn't have done without the outstanding response from local businesses.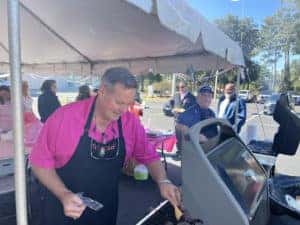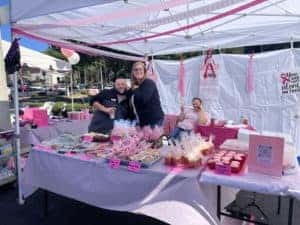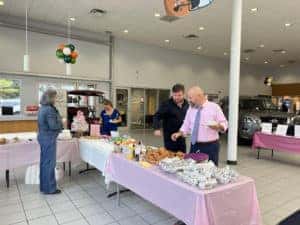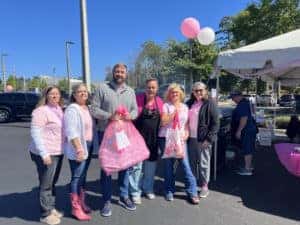 A special thanks to the following:
Bowden's Carpet Cleaning & Restoration
Anytime Fitness (6615 Mahan Dr Location)
O'Reilly's Auto Parts (Apalachee Pkwy Location)
Millennium Nail & Day Spa (Bannerman Location)